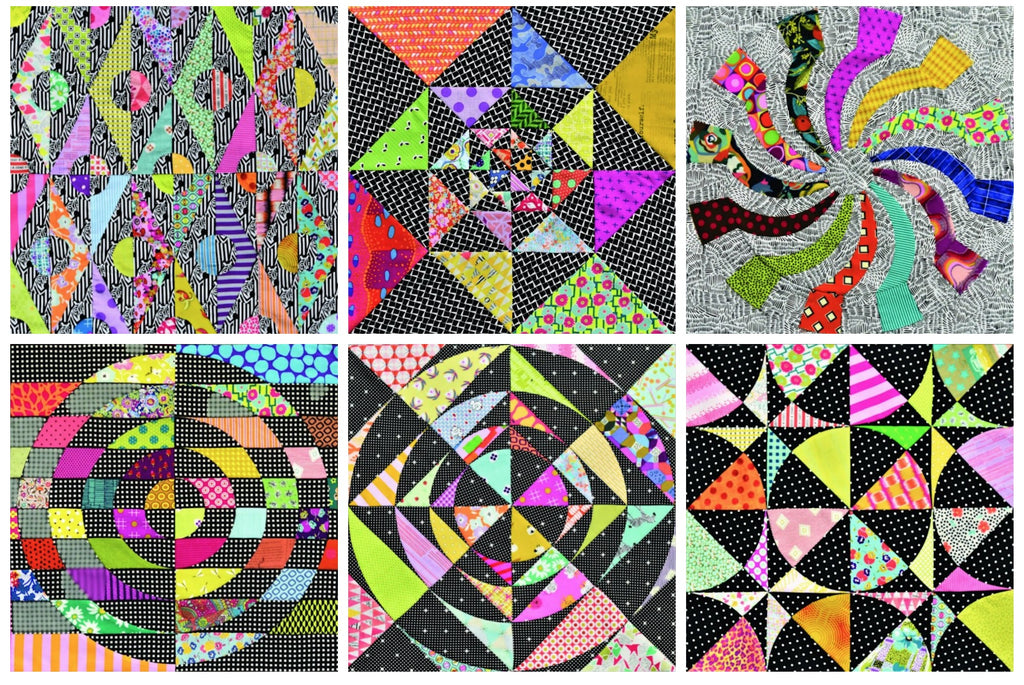 Psychedelia - Template of the Month Program by Jen Kingwell **Call 772.219.3991 or email info@redthreadstudio.com for availability**
ABOVE:  Psychedelia by Jen Kingwell
**DISCOUNT/COUPON CODES NOT VALID FOR PROGRAM REGISTRATION**
We are delighted to offer a second installment of Jen Kingwell's piecing and appliqué Template of the Month program - Psychedelia! 
Psychedelia is Jen's ode to the '60s and the Psychedelic Art movement of that time. Her color palette reflects the uninhibited, lively, and hip style of an era where Lava lamps illuminated a counterculture in which: Beatlemania changed music forever, Flower power and tie-dyed t-shirts fashionable mingled with Miniskirts and Go-go boots, Barbie (Doll) was born, Bell-bottom jeans were cool, Cars were adorned with Smiley Face and Peace Sign Bumper Stickers.

It can be done by machine or by hand.
Psychedelia is a 12 month program  and includes the Templates Only and instructions.
You will receive the following over the 12 month Template of the Month program:
Acrylic and mylar templates and instructions
25% off coupon toward any other Jen Kingwell Design or Jen Kingwell Collective patterns or templates
$25 Red Thread Studio eGift card upon completion of the program
Psychedelia program fees:
Non-refundable $25 registration fee (to be credited as a Red Thread Studio eGift card upon completion of the TOM)
$29 per month (including U.S. shipping) - templates and pattern only
HURRY!  PARTICIPATION IS LIMITED.  REGISTER NOW!  You will be contacted to provide payment information for the monthly program fees.