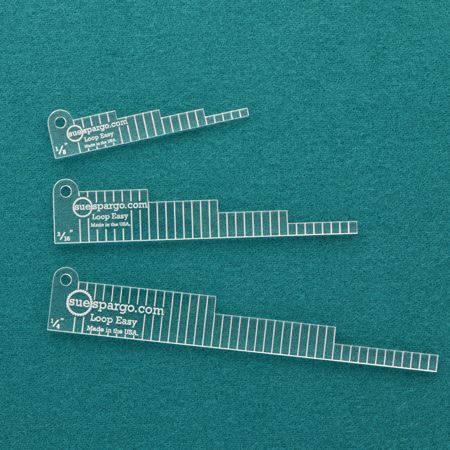 Loop Easy - Creative Stitching Templates by Sue Spargo
Designed exclusively in the Sue Spargo studio to make perfect loops every time! These special templates are from the Creative Stitching templates series. 
Each set contains three templates

Each template is composed of steps that differ in height (increments: 1/8", 3/16", and 1/4")

Steps differ in length to accommodate various sizes of thread

White 1/8" guides assist in marking and stitch placement

Perfect for the raised leaf stitch (instructions can be found in

 

Creative Stitching Second Edition

 

pg 175), grass, and blossoms, or any stitch that requires loops! Loop Easy can also be used as a measuring tool for fine details, as the guides are 1/8" apart.
Conveniently sized for Stitching on the Go!