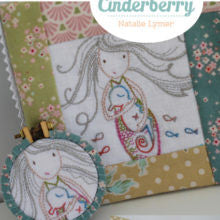 Mermaid Dreamer Pattern by Natalie Lymer for Cinderberry
A beautiful silver haired mermaid with her sleeping seahorse.  Mermaid Dreamer includes two beautiful projects in one.
Design 1: The sweetest and tiny 2.2 inch miniature embroidery design to use with Dandelyne miniature hoop & necklace packs (now available to purchase seperately  in store)
Design 2: A mere 5′ square this new needle case is perfect to take sewing with you and small enough to pop in your bag, the zip pocket means you shouldn't misplace your embroidery scissors or thread again.
Pattern includes:
Design sheet with COMSO stitch and thread guide.
Complete instructions and diagrams for both projects.
Detailed instructions and diagrams.