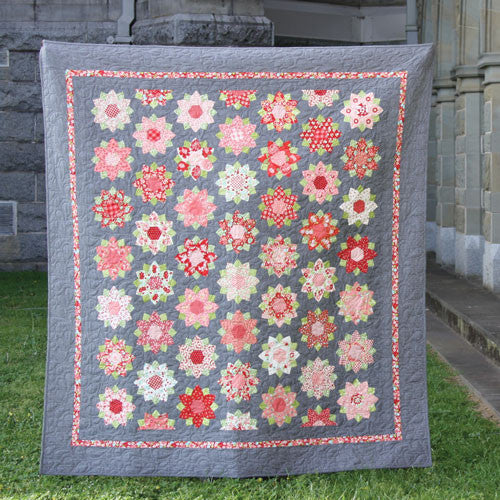 Tenderness Quilt Pattern and Complete Kit by Lilabelle Lane Creations
Tenderness is an English Paper Piecing Pattern by Lillabelle Lane showcasing three new and exclusive shapes. This quilt incorporates gentle curves to allow beautiful flowers in your favorite fabrics to be showcased.
The pattern includes beginner friendly instructions, from glue basting the papers to sewing the gentle curves. It also includes four acrylic cutting templates. There are also Scan N Cut friendly template pages included so you can make your own additional papers if required.
The Complete Kit has everything you need and includes:
(4) acrylic cutting templates required for this quilt
(340) laser cut Shield paper pieces
(320) laser cut Petal paper pieces
(330) laser cut Leave paper pieces
(52) 1-1/4 inch Hexagon paper pieces
Pattern by Lillabelle Lane
The quilt top finishes approximately 63 inches by 69 inches.