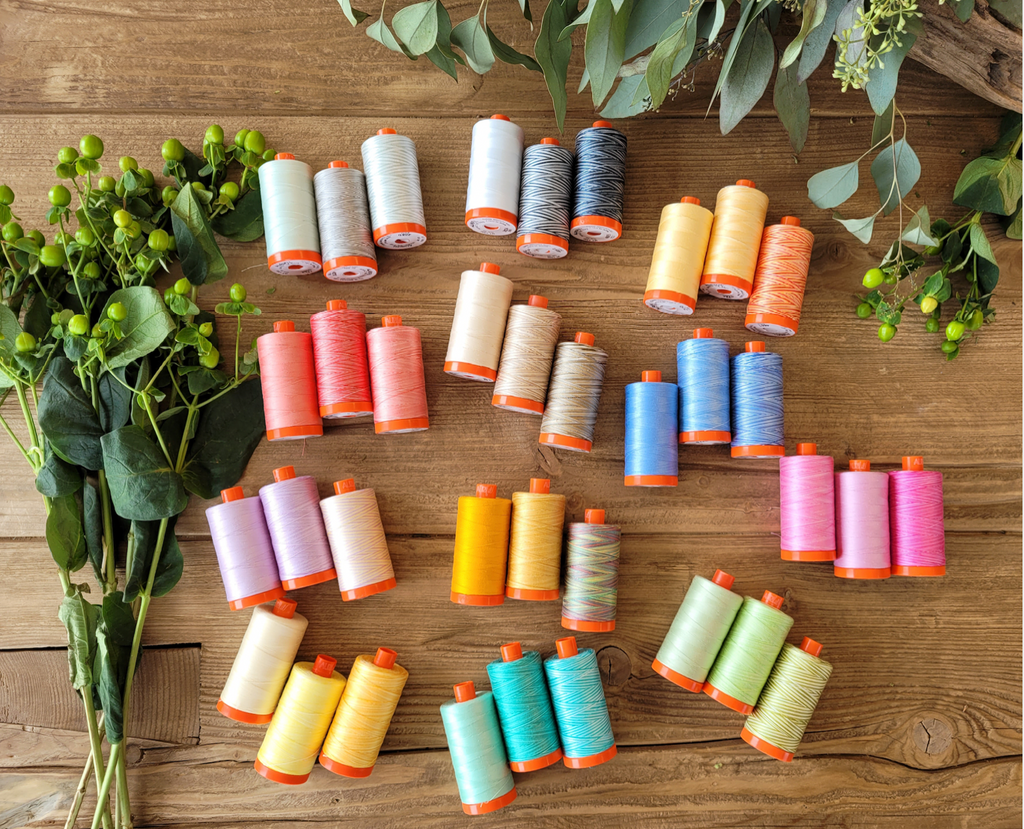 Aurifil 2022 Color Builders - Thread Club **start anytime**
**DISCOUNT/COUPON CODES NOT VALID FOR PROGRAM REGISTRATION**
We are delighted to offer Aurifil's Color Builders as a Thread Club!
Twelve mini collections featuring 12 irresistible hues broken out into 36 delightful spools of Aurifil thread– delivering inspiration to your doorstep every month for a whole year! 
The colors were drawn from 12 breathtaking rainforest plants from the Amazon Water Lily and the Bird of Paradise to the Jade Vine and the Spider Lily. These plants are a representation of our earth's most threatened tropical forests, largely affected by deforestation and climate change. For 2022, Aurifil will be donating to Rainforest Trust, an organization dedicated to the long-term protection of these forests. 
The Aurifil Color Builder Thread Club is a 12 month program in which you will receive 3 large spools of 50wt thread - 2 variegated and 1 complementary solid.
In addition to the thread, you will also receive monthly newsletters with color inspiration, thread education, and an exclusive appliqué pattern designed and developed by Aurifil's own Kate Brennan in partnership with graphic designer Christina Weisbard. Patterns are centered around flora-themed appliqué, allowing each featured monthly plant to take center stage.
Upon completion of the program, you will also receive:
25% off coupon toward any other Aurifil thread purchase at Red Thread Studio
$25 Red Thread Studio eGift card
Aurifil 2022 Color Builders Thread Club fees:
Non-refundable $25 registration fee (to be credited as a Red Thread Studio eGift card upon completion of the program)
$45 per month (including U.S. shipping) 
HURRY!  PARTICIPATION IS LIMITED.  REGISTER NOW!  You will be contacted to provide payment information for the monthly program fees.