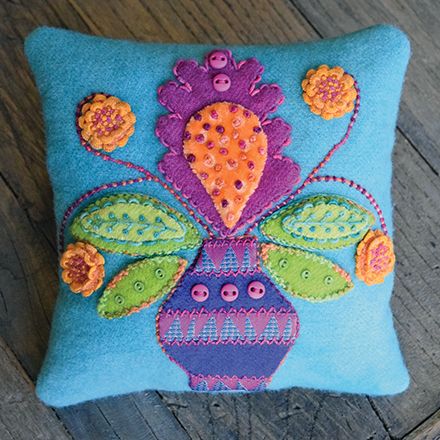 Canna Blossom Pincushion Kit by Sue Spargo
Let your creativity bloom with the Canna Blossom Pincushion. By layering wool, velvet, and ribbon, as well as utilizing embroidery stitches, create a vase overflowing with flowers and leaves.
Kit includes: hand dyed wools for background, backing + applique, cotton lining, hand dyed velvet, presto sheer, hand dyed buttons, ribbons, pattern for construction and stitch diagrams.
Sue Spargo's suggested threads (Sold Separately - Not Included):
Ellana Wool & Efina Cotton Applique: 
*EN10 *EN12 *EN37 *EN40 *EN49 & *EF23 *EF37
Eleganza Embellishments:
*size 8 EZM21 *size 8 EZM26 *size 8 EZM30 *size 5 EZM34 *size 5 EZM52
size approx 5 1/2" by 5 1/2"