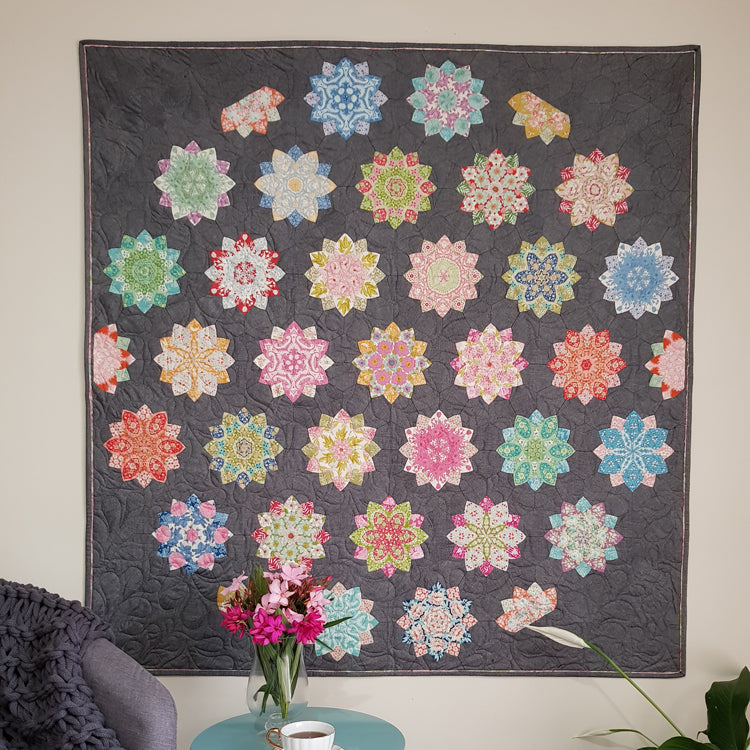 Indulgence Quilt Pattern and Complete EPP Kit by Lilabelle Lane Creations
Indulgence is a 'Bouquet of Flowers' given in the form of a quilt. This quilt features blooms that can be as unique as the maker wishes as they indulge in some creative 'me time' to explore the fussy cutting opportunities within their favorite fabrics.

The flower template has been designed with added etchings/markings to help with the symmetrical placement over a print to help achieve consistent and accurate fussy cuts.

Indulgence is entirely English Paper Pieced and the pattern is complemented with clear diagrams, a coloring sheet for those that like to plan their color placement and is Scan n Cut Friendly.

Indulgence is available as 2 Options:
* Pattern and Templates only
* Complete Kit: pattern, template pack and precision cut papers.

Also available separately is the Indulgence Fussy Cut Viewer in Collection 2.

Sharon used an assortment of Tilda Fabric for this design.
The quilt top finishes approximately 55 inches by 55 inches.