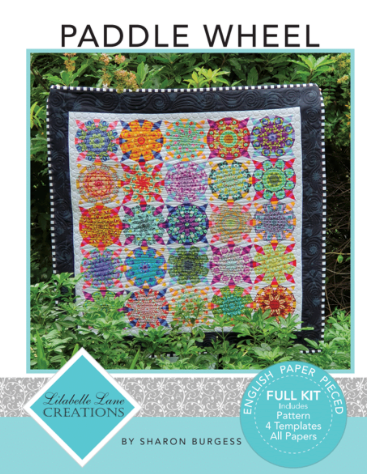 Paddle Wheel Quilt Pattern and Paper Piece Kit by Lilabelle Lane Creations
Paddle Wheel was inspired by the beautiful and majestic Paddle Steamers that grace the mighty Murray River in Echuca/Moama, Australia - the towns that Sharon got to call home while growing up.
The Paddle Wheel quilt is made up from the one 'Paddle Wheel' block on repeat. The 'Paddle Wheel' block finishes at approximately 6.5 inches. The fussy cutting for each 'Paddle Wheel' block can be as simple or as intricate as you wish. 
Want bigger blocks? Check out the Grand Paddle Wheel pattern.
The pattern and templates only include:
Beginner friendly instructions, from glue basting the papers to sewing the blocks
4 acrylic cutting templates
Bonus fussy cutting viewer
Individual photos of all 25 blocks in the original quilt.  
Instructions on how to scale the project (adding more blocks) depending on your requirements and how to go about calculating the new borders and background fabric requirements for whatever new size you choose to make.
A coloring sheet is included in the pattern as well for those that might like to plan and play with possible color options.  
The Paddle Wheel Complete Paper Piece Kit has enough papers to finish the entire quilt without having to be reused and includes:
Pattern by Lillabelle Lane
Paper pieces to complete quilt as pictured (25 blocks)
4 acrylic cutting templates
Bonus fussy cutting viewer
The quilt top finishes approximately 43 inches by 43 inches.