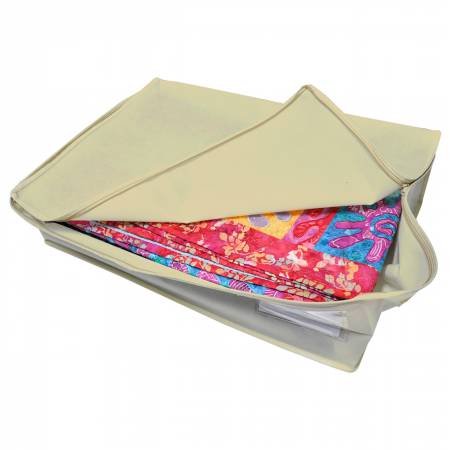 QuiltSAFE Storage Bag - Large
Keep your quilts protected with Quilt SAFE!
This breathable storage solution will provide protection for your valuable heirloom quilts and other linens during the off season or when traveling. The King size (Large) measures 16in x 24in x 9in and can easily accommodate one king-sized quilt.
A customizable card holder is on the face of the bag to offer easy recognition without opening the bag.

Made from a highly breathable non-woven fiber and finished with a non-snagging zip closure and carry handles.

You can customize the bags with your own handiwork too! The fabric is perfect for top stitching, appliqué or embroidery. You can easily personalize the bag for gift-giving.
What makes this storage bag different? Each bag includes multiple fabric sheets that you can fold between layers of the quilt. The interleaving sheets are permanently sewn into the Quilt SAFE to further protect your heirloom quilt. Store the Quilt SAFE under a bed or in a closet, protecting your finest linens from the damages of dust, mildew, and handling. Ideal for quilt storage, gift giving, or works-in-progress.