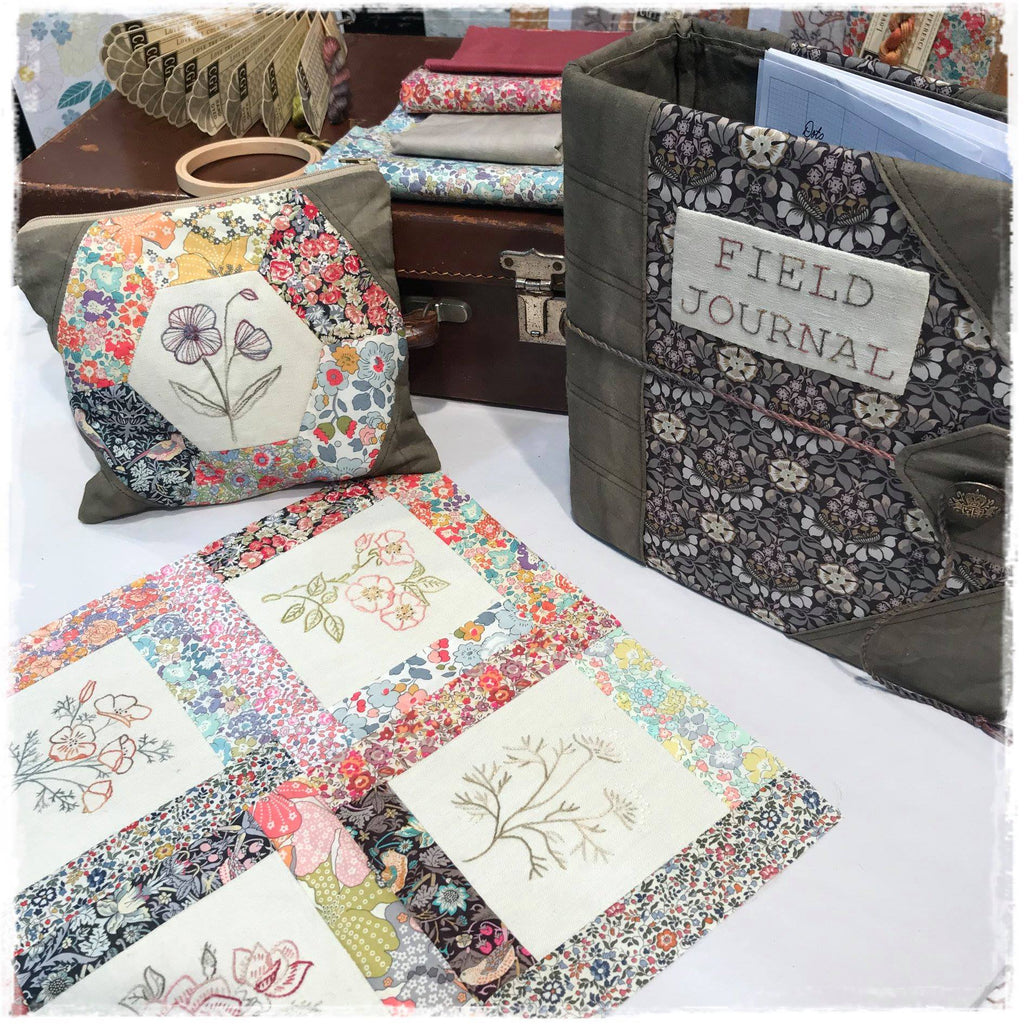 Field Journal Club by Cottage Garden Threads VOLUME 1 **Starting September 2023 - JOIN THE WAITLIST**
**DISCOUNT/COUPON CODES NOT VALID FOR PROGRAM REGISTRATION**
Back by popular demand, we are delighted to offer Field Journal by Katie Dawson of Cottage Garden Threads!
The Field Journal quilt uses vintage style stitcheries and journaling to marry over 100 Cottage Garden Threads with Liberty of London fabric to create a truly vintage appeal.
This program offer is specifically for VOLUME 1 (out of 3 volumes) of the Field Journal quilt.  It includes 36 embroideries and Cottage Garden variegated threads over the course of 12 months.
VOLUME 2 and VOLUME 3 release dates are still TBD.
After completing all three volumes, you will put together a queen-sized quilt. If you would like to opt out at the end of any 12 months, there will be enough materials to make a smaller quilt.
Each stitchery design does not use a full skein of thread so you will also have 108 threads (36 each year) in your collection. 
The skill level required for the stitcheries is intermediate. An example of stitches used is back, stem, chain, buttonhole, satin, seed, French knot, bullion knot, detached chain.
Each month of the 12 month program, you will receive the following:
(3) Cottage Garden Threads variegated 6 stranded embroidery thread.
(3) pre-printed botanical stitchery designs on hanky linen (4 inches finished) pre-fused with stabilizer
(3) 6 ½ inches x 6 ½ inches pieces of Liberty of London fabric.
(3) journal pages with a stitch guide, color photo and a section for journaling (Journal prompts will be provided in month 1)
At the end of the first 12 months you will receive the following:
25% off coupon toward any other Cottage Garden Threads or patterns including standalone Field Journal inspired projects.
$25 Red Thread Studio eGift card upon completion of the first 12 months program
During the first month, you will also receive:
The Field Journal Exclusive Thread Kit - contains 9 new Cottage Garden Threads to be used alongside the 36 signature range threads
Field Journal program fees:
Non-refundable $25 registration fee (to be credited as a Red Thread Studio eGift card upon completion of the BOM)
$37 per month (including U.S. shipping) 
**The Liberty fabric will have the same look and feel as the original Field Journal Club but will NOT be exactly as pictured.
HURRY!  PARTICIPATION IS LIMITED.  REGISTER NOW!  You will be contacted to provide payment information for the monthly program fees.