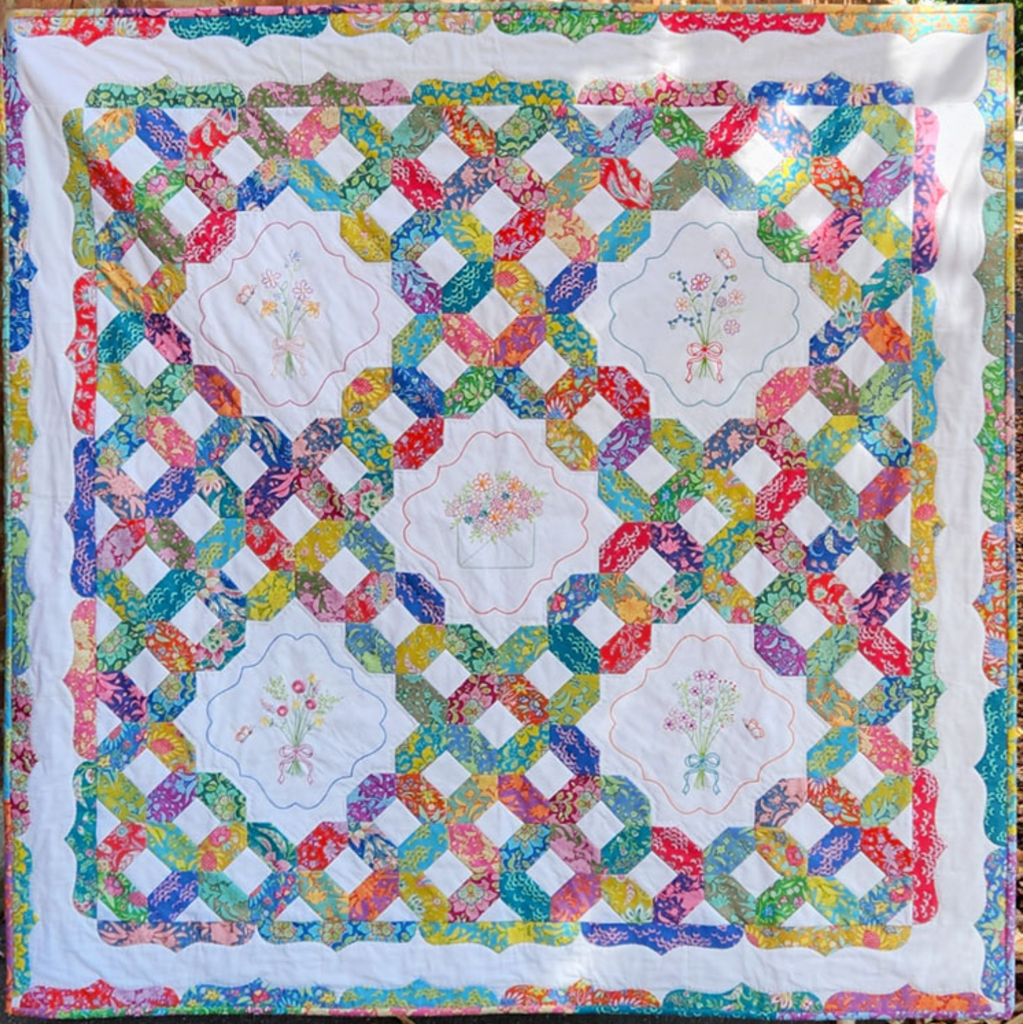 Posy - Block of the Month Program by Lilabelle Lane Creations **Shipping Now!**
ABOVE:  Posy by Lilabelle Lane Creations
**DISCOUNT/COUPON CODES NOT VALID FOR PROGRAM REGISTRATION**
We are delighted to offer Sharon Burgess of Lilabelle Lane Creations latest Block of the Month (BOM) program - Posy! 
The BOM starts in August 2023.
Embroidered bouquets set amongst a lattice background and a gorgeous border, Posy features Tilda's latest line Bloomsville as well as their Abloom blenders collection.  Or, just get the templates and use your own fabrics to create your own stitched garden.
Posy combines the techniques of appliqué, EPP, and simple embroidery stitches.
The quilt will finish 56 inches by 56 inches.
Posy is a 7 month program with two ways to participate:
1) An EPP Option (papers, acrylic templates, pre-printed embroidery panels and instructions) OR
2) A Complete Option that includes everything in the EPP option plus the Tilda fabric and Cosmo embroidery floss.
You will receive the following over the 7 months of the Block of the Month program:
Pattern booklets by Lilabelle Lane Creations
(3) EPP acrylic templates

EPP papers
(1) Applique acrylic template
Pre-printed linen embroidery panels
Tilda fabric for the top (EPP, Applique) and background/binding fabric (COMPLETE OPTION ONLY)
(15) skeins of Cosmo floss 

(COMPLETE OPTION ONLY)
Bonuses include:
Embroidery floss holder
Pre-printed quilt label
Bonus project
25% off coupon toward any other Lilabelle Lane Pattern or Template
$25 Red Thread Studio eGift card upon completion of the program
Posy program fees:
Non-refundable $25 registration fee (to be credited as a Red Thread Studio eGift card upon completion of the BOM)
EPP Option: $34 per month (including U.S. shipping)
Complete Option: $61 per month (including U.S. shipping)
HURRY!  PARTICIPATION IS LIMITED.  REGISTER NOW!  You will be contacted to provide payment information for the monthly program fees.