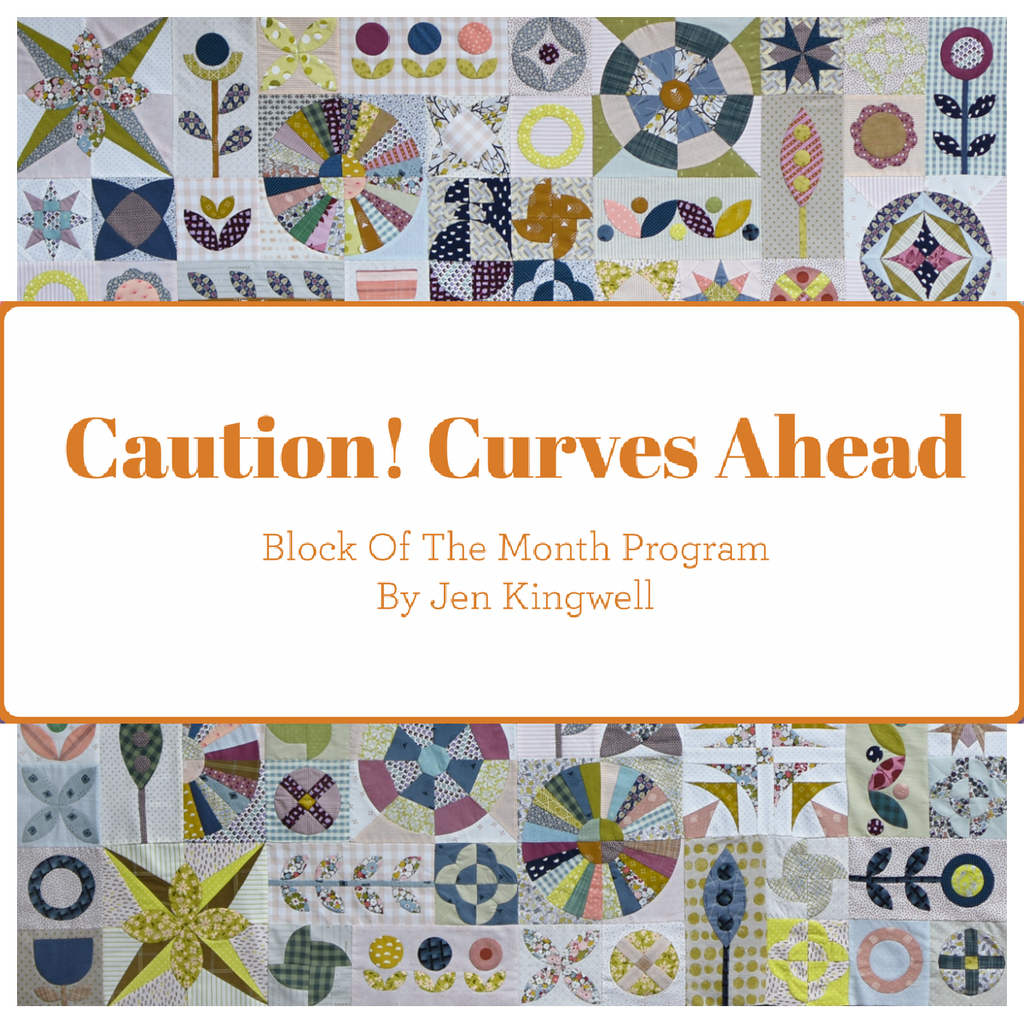 Caution! Curves Ahead - Template of the Month Program by Jen Kingwell ** Join Waitlist**
ABOVE:  Caution! Curves Ahead in the Coastal Colorway by Jen Kingwell
**DISCOUNT/COUPON CODES NOT VALID FOR PROGRAM REGISTRATION**
We are delighted to offer Jen Kingwell's newest appliqué and piecing Template of the Month program - CAUTION!  Curves Ahead.
Jen believes a Block Of The Month program should be about learning and challenging yourself.  She also appreciates many of you don't love curves as much as she does, so she giggled when coming up with the name, 'Caution! Curves Ahead'.

But! She has no doubt that after this 12 month program, you will gain an appreciation of how simple stitching curves can be and maybe even a little love for them?

From the very beginning of her quilting adventure, curved blocks have been her favorite. Jen loves the way they soften a design when juxtaposed against the sharper angles of straight lines. She finds something incredibly appealing about a curve... she loves polka dot fabric, rolling hills and winding coastlines, flower petals & leaves and... the curve of a wine glass. With all of this in mind, she designed a quilt where almost every block has a curved element.
CAUTION! Curves Ahead is a 12 month program. 
You will receive the following over the 12 month Template of the Month program:
Acrylic and mylar templates and printed instructions
Monthly hints and tips videos to help piece each block (via the group Facebook page)
Free access to Jen's online hand piecing and 

appliqué classes

25% off coupon toward any other Jen Kingwell Design or Jen Kingwell Collective patterns or templates upon completion of the program
$25 Red Thread Studio eGift card upon completion of the program
CAUTION! Curves Ahead program fees:
Non-refundable $25 registration fee (to be credited as a Red Thread Studio eGift card upon completion of the TOM)
$25 per month (including U.S. shipping) - templates and pattern only
HURRY!  PARTICIPATION IS LIMITED.  REGISTER NOW!  You will be contacted to provide payment information for the monthly program fees.
The Quilt Top finishes approximately 60 inches by 60 inches.
Shown below is Jen Kingwell's versions in the Coastal colorway or the Bright colorway.