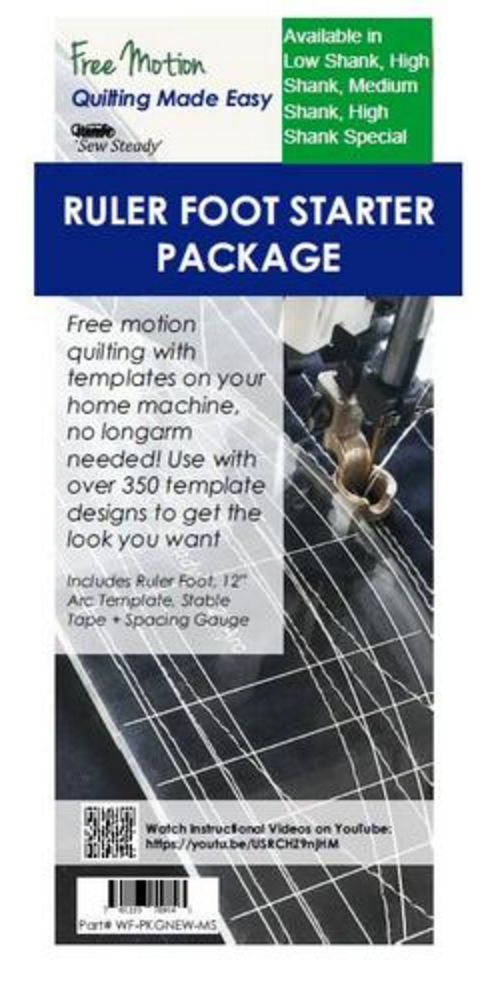 Sew Steady by Westalee Design - Ruler Foot Starter Package *Low, Medium or High Shank Option*
Now you can free motion quilt with templates on your domestic sewing machine using the Westalee Design by Sew Steady Domestic Quilting Ruler Foot and templates. There are over 350 template designs to get the look you want.**

The Domestic Quilting Ruler Foot Starter Package includes:

Ruler foot (medium or high shanks)
12 inch Arc Template (the Arc size is a measurement used in all arc templates to reflect the size of the full circle that the template was cut from. e.g. a 12 inch arc is a full 12 inch circle. The length will vary)
Stable tape
Spacing gauge

Ruler Foot Size Guide (**Please include Machine and Model # in Notes during checkout process**):

Of the 3,500+ domestic machines available in the marketplace, most are low shank. To determine the shank size, all you need to do is lower your foot and then measure the height of the center of the hole for the screw from the needle plate. Low shank will be 1/2 inch and High Shank will be 1 inch (see image).

Medium Shank and High Shank Special machines are listed below:

Medium Shank Ruler Foot: for a selection of Pfaff Machines that have a Dynamic Setting: Creative Sensation Pro, Creative Sensation, Creative Vision, Creative Performance, Creative 4.5, 4.0, 3.0, 2.0, Performance 5.0, Quilt Expression 4.2, 4.0, Expression 3.5, 3.2, 3.0, 2.0, Expression 150.

High Shank Special Foot:
Pfaff 1200 Grand Quilter, Husqvarna Mega Quilter, Brother PQ1300 PQ1300 PQ1500S, Janome 1600P 1600P-DB 1600-QC, Singer 2OU 31-15, Babylock BLQP BL500A, JUKI DDL-227 DDL-555 DDL-8700 TL-98E TL-98P TL-98QE TL2000Qi TL2010.